2013 Hilton Head Hospital Jingle Jingle 5K Road Race & Health Walk
Saturday December 21st - 9:00am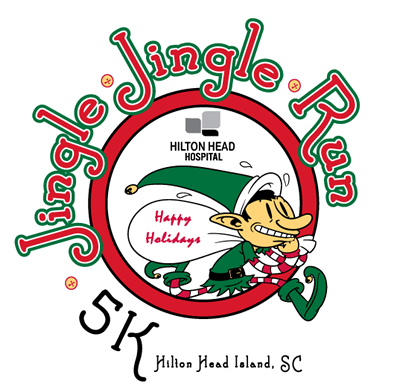 The 22nd Annual Hilton Head Regional Medical Center Jingle Jingle 5K Run and Health Walk is 9 a.m., Saturday, December 21st on and around the Hilton Head Hospital Campus and Main Street.
The Hilton Head Medical Center & Clinics Jingle Jingle 5K Run features a colorful seasonal theme and provides participants a chance to burn off those extra holiday calories. The race features all standard male and female running divisions. Holiday prizes are presented to the top three overall male and female finishers, plus the top three in each age category will also receive unique holiday awards.

A percentage of proceeds goes to benefit The Zoe Foundation Harper Project and CODA.
Everyone is encouraged to bring new unwrapped toys, gift cards, or phone cards for donations to benefit CODA ( Citizens Opposed to Domestic Abuse ). People who donate items will qualify to win a Holiday Gift Package valued at over $150. The Publix Holiday Gift Package will include: $100 Publix Gift Card and other holiday items.
The first 500 participants in the 5K will receive a Long Sleeve Jingle Jingle T-shirt, jingle bells, and a candy cane. An festive award ceremony featuring a visit from Santa, refreshments, music and door prizes will be held following the race.
BlueCross BlueShield of South Carolin Children's Fun Run:
This year's HH Jingle Jingle Run will also feature The BlueCross BlueShield of South Carolin Children's Fun Run. The Children's Fun Run is designed for kids 6 years and under.
Beginning at 10 a.m., the race is broken down into two heats: ( distance are approximate )
Age 3 and Under: 25-yards run beginning at 10 am
Ages 4-6: 100-yards run beginning at 10:05 am
Parents can pre-register their child for the fun run online for $10 per child
Includes a bib, t-shirt and finishers prize! ( we recomend pre-registration to guarantee event t-shirt )
FEES
Children's Fun Run $10
5K Pre Registration is $30 ( tech long sleeve shirt included )
5K Late Registration is $35 - RACE DAY
Families & Groups of 6 ore more receive a 10% discount for pre-registration prior to 12/17 only.
SPONSORS - please support our race sponsors ....
Savannah Cardiology, Coastal Sport & Wellness, The Bike Doctor
Fraum Chiropractic Life Center, Custom Audio Video