Thank you 2019 participants, volunteers and sponsors.
Details for 2020 coming soon.

The 2019 Hilton Head Island Marathon, Half Marathon, & 8K will be held on Saturday, February 9th at 8:00am from Jarvis Creek Park on Beautiful Hilton Head Island, South Carolina. The Hilton Head Island Marathon & Half Marathon features a scenic certified course that takes participants through two parks and over the Broad Creek.
Hilton Head Island Marathon has been selected as: 
The 2019 Road Runners Club of America (RRCA) Marathon Southern Region Championship!
The Marathon Course 'Boston Qualifier' runs thru several communites including: Spanish Wells, Point Comfort & Honey Horn Plantation. The course is fast and flat with an incline at the Broad Creek Bridge, which is about a one mile span and is done twice. The Hilton Head Marathon / Half Marathon features all standard male and female divisions including, Men's Clydesdale and Women's Filly divisions, as well as Master and Grand Master. Gift cards and unique awards will be presented to the top three overall male, male master's, female, and female master's finishers. Additionally, the top three in each age category will also receive unique awards. All finishers will receive a finishers medal.
BFS is excited to introduce The HH Marathon Team Relay to the 2019 event. Mens, Womens, Co-ed & Corporate teams of four runners will compete against each other with each team member running between 5.6 and 7.3 miles. Each leg will take runners over the Cross Island Bridge.
Learn more about the Team Relay!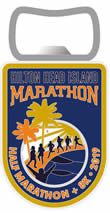 Finishers Medal for all finishers / all races
LATE REGISTRATION & PACKET PICK-UP • Packets cannot be mailed
Friday, Feb 8th, 4:30pm-8:00pm @ Sonesta Resort Hilton Head Island
RACE DAY - 7 til 7:30am Jarvis Creek Park.
We highly recommend that you pick up packets on Friday evening at the Sonesta Resort
The HH Marathon is a Boston Qualifier course.
TIME LIMIT - 6 hours for Marathon / 4 hours for Half Marathon
Hilton Head Marathon USTF Cert # SC15008DW
Hilton Head Half Marathon USTF Cert #SC15009DW
Please note due to safety issues with SCDOT - no pets, strollers or baby joggers
Runners who are on the Cross Island Parkway after 6 hours will have to be removed from the course. Marathon Minimum pace per mile is 13:40. The total number of participants is limited to the 2,500.
PACE RUNNERS
HH Marathon will provide a 4 hour and a 4.30 pace runner - they will be clearly marked. Half Marathon will provide a 2 hour pace runner.
POST RACE PARTY
Featuring: Craft Beer Garden, Refreshments, Live Music from Bobby Magyaros, Food, Door Prizes, Children's Fun Run, and each event Award Ceremony will be held following each race.
Craft Beer Garden - ( with more then 20 beers ) Beer Nut Option




Pre-sales are available on Line 3 for $15 and at Packet Pick-Up Friday Night for post-race BeerGarden.
Individual Beers $6 each. Must be at least 21.
TO BENEFIT
A percentage of proceeds will benefit several Hilton Head Island area Charities including: Hilton Head Rotary Club, HHI High School Athletic Department, Bluffton ROTC, and Hilton Head Christian Academy. In 16 years the event has donated over $59,000 to area charities, and in 2019 we look forward to increasing our total.
LONG SLEEVE TECH SHIRTS
Marathon, Half Marathon & 8K participants will receive a colorful long sleeve performance blend t-shirt. $15 - upgrade option to race sweatshirt instead of tech shirt.
SCHEDULE OF EVENTS (times are approximate)
9:30am - 8K Awards
11:00am - 1/2 Marathon Awards
12:30pm - Children's Fun Run
1:00pm - Marathon Awards
If you are not present at award ceremony and would like your award mailed there will be a $15 shipping and handling charge to have it mailed to you.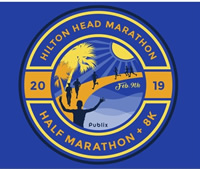 Marathon & Half Marathon Run Divisions
* Male 19 & Under, 20-24, 25-29, 30-34, 35-39, 40-44, 45-49, 50-54, 55-59, 60-64, 65-69, 70 & over.
Clydesdale 190-225 lbs, 226 lbs & over
* Female 19 & Under, 20-24, 25-29, 30-34, 35-39, 40-44, 45-49, 50-54, 55-59, 60-64, 65-69, 70 & over.
Zina / Filly Division - 145 lbs & Over
8K DIVISIONS Male & Female
U-13, 14-19, 20-29, 30-39, 40-49, 50-59, 60-69, 70+
• Gift Cards top 3 M/F Overall - Awards top 3 M/F in each Div.
---
Hilton Head Marathon Photos