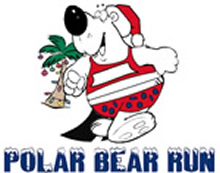 2021 Bluffton Polar Bear 5K Run
Saturday, January 9, 2021
2021 Live Streaming Results
Participants Covid Contract (REQUIRED)
---
The 2021 Bluffton Polar Bear Run is Saturday January 9th. The 5K Run will Start & Finish Oyster Factory Park taking runners and walkers thru the streets of Old Towne Bluffton. The 5K Run will be limited to just 250 runners with a TIME TRAIL START between 9:00am & 9:30am. A limited number of Runners in each wave will leave in 3 minute intervauls. Start times will be posted based on your running number.
We here at Bear Foot Sports are very excited to be hosting races again. To make this happen we will be following strict CDC Covid Guidelines. Participants MUST wear masks before and after event. Remove only during your time running. Practice Social Distancing. Please vacate the park once you are finished with your run.
Participants Covid Contract (REQUIRED)
LATE REGISTRATION & PACKET PICK UP
Held at Bluffton Trading Post - 1230 May River Rd, Bluffton
Friday, Jan 8 from 2pm - 8pm

Late registration will only be available if the race is not sold out prior to packet pick-up.
NO race day late registration or packet pick up will be available.
Registration fee is $35. Pre-Registration ONLY deadline is Jan 6th. No late or race day registration. Fee includes: Colorful Long Sleeve Polar Bear Run T- Shirt.
AWARDS
Overall Female (1st - 3rd)
Overall Male (1st - 3rd)
Overall Female Master 1st
Overall Male Master 1st
Age Group Divisions (1st - 3rd)
12 & under, 13-19, 20-29, 30-39, 40-49, 50-59, 60-69, 70 & Over
---
Parking - Oyster Factory Park - Please arrive and be ready to run during your time slot.
Course will be well marked with a limited number of course monitors however we suggest that you study course map prior to running.
Course is one loop - Runners are all running in same direction no overlapping.
RESULTS
Race results will be posted following the event. Chip times provided. BFS will pass out individual cold bottles of water at finish. No other pre or post race activities are scheduled.
Please RESPECT OTHERS. Participants that do not follow these requirements will be automatically disqualify and asked to leave the event.
No pets or baby joggers will be permitted.
NO REFUNDS
A percentage of proceeds from the Bluffton Polar Bear 5K Run will benefit a local charity. For more information or to register call Bear Foot Sports at 843/757-8520.
---