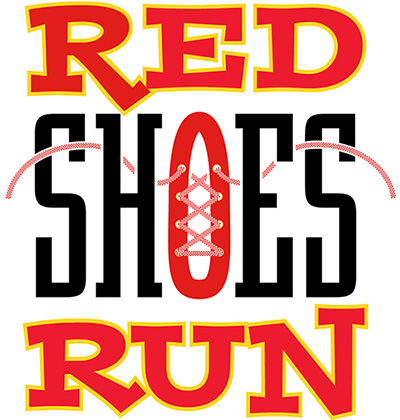 Red Shoes Run of Bluffton to benefit Ronald McDonald House Charities&copy (RMHC&copy) of the Coastal Empire presented by Bluffton Trading Post.
Saturday, April 3, 2021 at the Oyster Factory Park
The Red Shoes Run of Bluffton will Start & Finish Oyster Factory Park taking runners and walkers thru the Historic Streets of Old Towne Bluffton. The event will start at 8am. We encourage everyone to have fun and wear red shoes!
We will be following Town of Bluffton and CDC Covid guidelines. Masks are recommended but not required.
Entry Fee: $35 pre-reg thru 3/27
$35 Late Reg 3/26 - 4/1
All participants will receive a colorful Red Shoes Run Preformance t-shirt and RMHC socks.
Participants Covid Contract (REQUIRED)
Packet Pick-up: Friday, April 2, 3pm-7:00pm
Bluffton Trading Post
Please make every attempt to collect your packet on Friday.
AWARDS
Overall Female (1st - 3rd)
Overall Male (1st - 3rd)
Overall Female Master 1st
Overall Male Master 1st
Age Group Divisions (1st - 3rd)
12 & under, 13-19, 20-29, 30-39, 40-49, 50-59, 60-69, 70 & Over
RESULTS
Race results will be posted following the event. Chip times provided.
BFS will pass out individual snacks & cold bottles of water at finish. No other pre or post race activities are scheduled during Covid restrictions.
Please RESPECT OTHERS. Participants that do not follow these requirements will be automatically disqualify and asked to leave the event.
SORRY NO PETS and NO REFUNDS
A percentage of proceeds will go to benefit Ronald McDonald House Charities© (RMHC©) of the Coastal Empire. For more information or to register for the events please visit bearfootsports.com or call Bear Foot Sports at 843/757-8520.
About the Ronald McDonald House of the Coastal Empire
Since 1987, Ronald McDonald House Charities (RMHC) of the Coastal Empire has served families of seriously ill and injured children coping with the stress and expense of daily living while trying to be close and emotionally strong for their child. The Ronald McDonald House is located on the campus of Memorial Health Hospital in Savannah. GA and allows families to remain close to their children while receiving treatment at our area hospitals and medical facilities. It allows for children who are receiving chemotherapy to stay in close proximity to the Dwaine & Cynthia Willett Children's Hospital for their daily treatments. It is more than just a room and a hot meal; the Ronald McDonald House is a "Home Away from Home" for children and their families.
The Ronald McDonald Care Mobile provides dental examinations and preventive treatment to children between the ages of 3-11, many of whom have never been to the dentist. The Care Mobile operates in Beaufort, Hampton, and Jasper counties in South Carolina.
To donate to the RMHC go to: rmhccoastalempire.org/donate